17th
I.S.C.
of
Orff
-
Schulwerk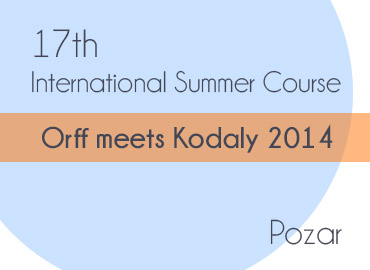 17th Orff - Schulwerk International Summer Course: "Orff meets Kodaly 2014". Hungary, Pomaz, July 8th - 13th, 2014.
Integration of music – movement – dance as a process of intercultural understanding.
This International Master Class of Orff-Pedagogy will take place the second time in Pomaz / Hungary. The tradition of this course is based on the successful cross-cultural collaboration of various Central and Eastern European countries. The goals of seminary are the deepening and further developing of the principles of holistic and elementary music pedagogy in schools and other establishments. Introduced and transmitted by international teachers. This course is opened for participants from all the world. Official teaching language: English. The seminars will be hosted in the wonderful environment of the Chorus Castle.