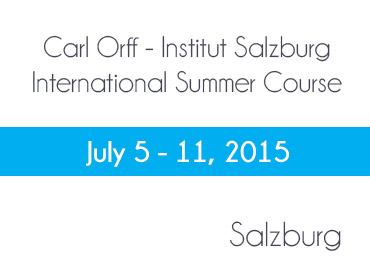 July 5 – 11, 2015
Directed by Verena Maschat and Reinhold Wirsching
Morning Courses: Fundamental Music and Dance Education with emphasis on practical work – vocal, instrumental and movement classes.
Afternoon workshops: A variety of courses to choose from the following areas:
Orff-Instruments – Ensemble and Improvisation, Creative Dance, Percussion, Composing for Orff-Instruments, Early Childhood, Music Education and other topics.
Evening sessions: Concert – Discussion – Singing and Dancing
Duration: 40 hours | Language: All classes will be taught in English | Course fee: approx. 350 Euros
Accommodation: Schloss Frohnburg, Student Residence Internationales Kolleg and others.
Application forms will be available from January 2015 on from the secretary of the Carl Orff-Institute, A-5020 Salzburg, Frohnburgweg 55, Austria.
Tel.:0043/662/6198/6100 | fax: 0043/662/6198/6109
e-mail: orffsummercourse2015@moz.ac.at
Abteilung 10 - Musikpadagogik
ORFF-INSTITUT
Elementare
Musik- und Tanzpadagogik
A-5020 Salzburg, Frohnburgweg 55
Tel.: +43/662/6198/6100 | Fax.:+43/662/6198/6109
e-mail.: sonja.czuk@moz.ac.at   www.moz.ac.at